Long term readers of the blog will be well aware of my growing concern about the state of the Triple show in Sheffield over the last few years. It's reached a point that when I was unable to go this year, I wasn't particularly worried about it.
However, this meant that as I'd missed York in February I hadn't been to a show since the autumn. Therefore, given that it's my 40th birthday next week, I thought I'd treat myself and make the journey down to London for Salute for the first time. Wes joined me on my travels and what follows are my show highlights...
Free Stuff
More and more shows are offering free stuff on entry, but Salute was a little more than a step up. Along with a free dice and some free miniatures there was a prize draw ticket. I opened mine to discover that I'd won a free KR Multicase rucksack; a big one that can hold four of their cases.
What's more, Wes opened his to discover he'd won exactly the same thing! We were initially concerned that this was actually some kind of crude marketing scam, however, it turned out that we were just luck. I'm hoping that the foam trays I keep my Batman miniatures in will fit in it, otherwise it may turn out that KR will be getting some business from me after all.
One of the free miniatures was a limited edition Empire of the Dead miniature from Westwind games. It's a really nice model, but I'm not sure what I'd use it for. Answers on a postcard...
There was also a sprue of two plastic miniatures from a Sci-Fi game I hadn't heard of called Maelstrom's Edge. I wont be playing that game, but these miniatures may be able to be converted into something for my Marvel game.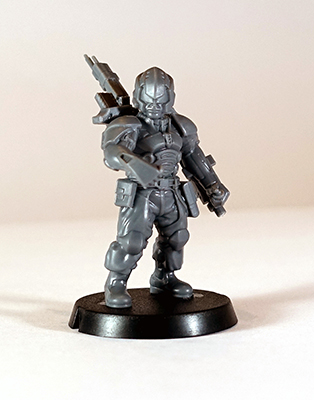 Batman and Marvel Miniatures
A long time ago, Wes bought Green Arrow and tried out BMG to find it not really to his taste as it's not great as a casual game. However, Simple Miniatures had an excellent display of Batman and Marvel miniatures and Wes allowed himself to be convinced to have a brief demo.
This was also my first go of the game and it comes across as BMG-lite, something which appealed to Wes, and so, although he didn't buy anything on the day (he almost cracked and bought the Guardians of the Galaxy), we'll be giving the full game a try soon. I also managed to pick up another rulebook with a different scenario and splurged a little to buy a bargain-priced resin Batmobile, which is usually only available via direct order from Knight Models, which should come in handy when the vehicle rules are released next month.
Hawk Wargames
I picked up a few cheap models for my Resistance force for Dropzone Commander: a Breaching Drill and two Raven-A Dropships, which should finish off my 1500 point list perfectly. Wes also picked up two of the exclusive show-only PHR dropships.
We also got a chance to see the models we'll be getting from the Dropfleet Commander which were on display and beautifully painted, as well as getting a sneak peak at some of the other models that will be in the range.
The UCM Fleet
The Cheatar...sorry, Shaltari Fleet
The PHR Fleet
The Scourge Swarm
Launch Assets and City Markers
The Space Station Kit
A Shaltari Battleship and the Civilian Cruiser
Crooked Dice & 7TV
Last week, I managed to snaffle a reduced price copy of 7TV2 from eBay and so before it arrives, I decided to pick up the brand new cards for the Paranormal Investigators. As well as rules for characters who are definitely not the Ghostbuster, these have rules for ghosts, zombies and cops, so they'll help me to transfer my zombie games into 7TV2.
Crooked Dice also had several display games, including Scooby Doo and a quite stunning Star Wars board.
Warlord Games
As well as their usual fair, I was pleased to see some examples of the miniatures which will be appearing in the new Doctor Who Miniatures game. When it arrives, this one might just tempt me...
All in all it was a cracking day out. Loads of retailers, loads of displays, loads of deals. This is definitely going to become a regular feature of my wargaming calendar, and I feel that I'm likely to save my money and skip Triples to go to this with a full wallet in future.